Nokia E71x available via AT&T - MP4Converter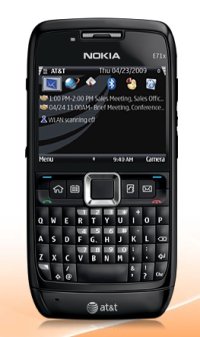 The Nokia E71 is one great smartphone to own if you haven't yet done so already, but just in case you're thinking of upgrading to that model - hold your horses. Nokia has just made available the E71x, touted to be the slimmest smartphone on the market, via AT&T retail stores and online from this week onwards. This full QWERTY smartphone will retail for a mere $99.99, although that comes with a customary 2-year contract alongside a mail-in rebate. More on the Nokia E71x right after the jump as well as its capabilities and functions to cater for the road warrior in you.
According to David Petts, Vice President and General Manager, AT&T Account, Nokia, "The trend for messaging, whether email, IM, texting or social networking, is stronger than ever - we are seeing a real shift in the way people prefer to communicate. The E71x is one of the most stylish and sophisticated QWERTY smartphones on the market, and it's the ideal companion for people who enjoy easy messaging and connecting with their friends. We are thrilled to now bring this sleek smartphone to people across the United States with AT&T."
The Nokia E71x will make sure you remain connected no matter where you are courtesy of its high-speed 3G connectivity, Wi-Fi support for times when you want to save on battery life, an integrated music player that won't be on par with an iPod but it does its job well enough, a 3.2 megapixel auto-focus camera that allows you to take memorable moments whenever you forget to bring out your camera, alongside a whole host of connectivity to various online portals meant for messaging and social networking. The built-in GPS navigation system also allows you to use AT&T Navigator to get around an unfamiliar territory with ease. The only problem could be the Symbian S60 operating system it runs on – those on the iPhone who wants to switch might find it to be less intuitive than the iPhone OS.
4Media provides various Nokia software: 4Media Nokia Ringtone Composer.