MediaMan HVX-3500 Review - Mp4 Converter
When Playengine offered us a chance to test the MediaMan HVX-3500 we took a quick look at the specs and decided that it was a bit more than a cleaver housing for a 3.5 Inch IDE hard drive and so we had to give it a run out.
When it arrived the significant packaging and then the units styling drew a small crowd around LP's desk, what is it? everyone asked and that's not an easy question to answer.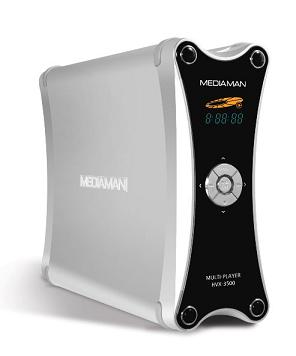 On the face of it the MediaMan HVX-3500 is a hard drive enclosure with its own operating system, USB connectivity and a range of multimedia outputs ranging from RCA audio all the way up to component video and DVI with resolution up to 1080p high definition. In terms of style the MediaMan HVX-3500 has bags of it, the silver metallic housing is concave and looks more like a games console than a media drive, the front plastic panel houses a small LCD display that gives basic unit feedback and also has a 4 way manual control pad should you lose the remote control.
Powering up requires use of the outboard PSU and toggling the rear mounted switch, the unit boots in a very short time around 15 seconds and the screen shows LIST which means the on screen display is ready and showing the main index of the MediaMan OS. We hooked up via Component video and via DVI for our tests and the GUI was lovely and crisp on the DVI output. It's a simple affair with an explorer style layout with icons for the main functions and an alien green background to the areas where files are listed in a quite technical fashion.
You start at the top of the folder hierarchy and media is shown grouped in user definable folders, these are then clicked on by use of the remote control or front panel buttons (the remote is much easier) to see what media is contained within. We started with audio for our review and the HVX-3500 support a wide range of formats including WAV, MP3, MPEG-4(AAC), WMA, OGG Vorbis, AC3 and DTS. These are navigated too and then the audio player opens showing the track listing of the album from the ID3 tags. The audio player has all the functionality you'd expect with basic play control including repeat and shuffle, the audio connection are all RCA and can cope with 5.1 sound and so has the full 6 speaker channels.
Audio quality seemed good although we did get some distortion on very bass rich tracks, we were very pleased to see support for Ogg Vorbis and at first were a little miffed that iTunes files would not play, however by changing the file extension from .m4a to .mp4 we managed to make files converted in iTunes play. But files downloaded from iTunes (purchased) will not play these m4p files will likely never work due to licensing of Apples IPR to 3rd parties.
So onto Video and the primary reason you'd buy the MediaMan HVX-3500. The range of formats is quite something including MPEG-1 (AVI, MPG); MPEG-2 (AVI, VOB), ISO, IFO; MPEG-4 (AVI, DivX 3.11, 4.xx, 5.xx. XviD) DivX subtitle we started with a few tests of files dragged over the USB 2.0 connection, the MPEG-2 movies played file as did a converted DVD which was still intact with chapter markers etc. As the MediaMan HVX-3500 supports HD we thought we'd give that a whirl and after finding some files to download, we found lots of HD WMV files available and transferred these over only to find they were not listed. That's when it struck us that WMV video is not supported which is more than a little strange and also a bit of a flaw for a video player given the amount of media in this format.
So in our hunt for HD media we convert to DivX, which seems to have a fair amount of downloadable content, but once again these files did not show on the player after transfer. This took more investigation as DivX is supported and we had played standard definition DivX movies. After checking the encoding of each of the files we can only conclude that DivX HD is a format that requires very careful encoding to ensure replay on devices such as the MediaMan and not that the MediaMan is itself at fault here.
The MediaMan HVX-3500 also has some nice touches that make it more useable including the ability to build and store play lists and also to store, sort and display images, even build sideshows. Most of these features you'd get with media player software so we guess it's no surprise to see them here either, however their combination with a simple device that can take your choice of 3.5" IDE hard drive is quite clever. The attention to detail is evident in all the control including the remote which although fairly standard looking has logical buttons for the feature you require and by working through the menus you can even disable the fan on the unit to reduce noise.
We have few issues with the MediaMan, perhaps our main concern is that a device that is £150 without a drive installed or £184 as tested with a 40gb drive does not have more connectivity options. For this kind of cash we'd have expected at least a cabled Ethernet connection (RJ45) or even better a wireless option, even if we had to pauy to add the card. With WiFi and some server software (like Twonky) this would make an excellent independent music / media server for the home and perhaps this should be the ultimate destiny for the MediaMan.
For now your £184 buys you a very competent Media appliance with more outputs than you can shake a stick it.